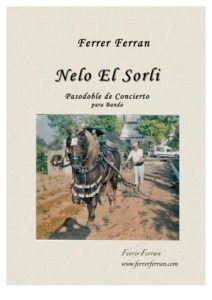 Tracklisting
Synopsis
Nelo el Sorlí
Pasodoble de Concierto
"Nelo el Sorlí" es un pasodoble típico Valenciano, de carácter clásico y tradicional dando evocación y memoria a la persona que está dedicado.
Manuel Casany era una persona amante de la familia, de la tradición y del espíritu valenciano, afectuoso y cariñoso siempre hacia su mujer, y que quiso regalarle como muestra de este amor un pasodoble, pero las circunstancias de la vida hizo que nunca jamás se llevara a cabo.
Esta persona junto con su mujer, Teresa Jordá, fueron pieza clave para su nieta Andrea Lerma, que hasta el final de sus vidas, esta les acompañó mostrando todo un afecto especial hacia ellos y recibiendo de ellos los mejores valores que nos da la vida, aprecio, sensibilidad, ternura, cariño, amistad, simpatía, etc..
El autor, ha pretendido con este pasodoble dar vida a aquella ilusión, del "iaio" el de regalar lo mejor a su amada esposa, haciendo un pasodoble popular, típico y característico, además, por sentirse apreciado y querido por sus dos nietos Andrea y Roberto.
Un pasodoble de concierto, de solera, español y valenciano con melodías de mucha expresión y dulces y que con la escucha de este, nos trasladará a ese mundo de la cultura y tradición, soñando por la ilusión de vivir con fuerza, espíritu y amor.
A Teresa Jordá y Manuel Casany, porque ellos juntos han sido capaces de dar vida a un "ángel" que muestra Paz y Felicidad al mundo. Con cariño de sus nietos Andrea y Roberto para que su presencia esté presente entre nosotros, dándonos fuerza y espíritu.
Esta Composición fue estrenada el día 15 de Agosto de 2014 en la Plaza Cervantes de Paiporta (Valencia – España), por la Banda Primitiva de Paiporta, dirigiendo el autor.
---
"Nelo the Sorlí" paso doble is a typical Valenciano, classic and traditional character and memory recall giving the person who is dedicated.
Manuel Casany was a loving person family, tradition and Valencia, affectionate and loving spirit always to his wife, and wanted to give him as a sign of this love a paso doble, but life circumstances made never ever take out.
This person together with his wife, Teresa Jorda, were instrumental to his granddaughter Andrea Lerma, who until the end of their lives, is accompanied by showing you all a special affection towards them and getting them the best values ​​that gives us life, appreciation, sensitivity, tenderness, affection, friendship, sympathy, etc ..
The author has tried with this pasodoble give life to the illusion of "iaio" of giving the best to his beloved wife, making a popular, typical and characteristic pasodoble also to feel appreciated and loved by his two grandchildren Andrea and Roberto.
A paso doble concert, hearth, Spanish and Valencian with much expression melodies and sweet and with listening to this, we move to the world of culture and tradition, dreaming by the illusion of living with strength, spirit and love.
Teresa Jorda and Manuel Casany, because they together have been able to give life to an "angel" showing Peace and Happiness to the world. With loving grandchildren Andrea and Roberto for their presence is present among us, giving us strength and spirit.
This composition was released on 15 August 2014 at the Plaza Cervantes Paiporta (Valencia – Spain), for the Primitive Band of Paiporta, leading the author.
Video
Partitura / Score
Grabaciones En Catálogo