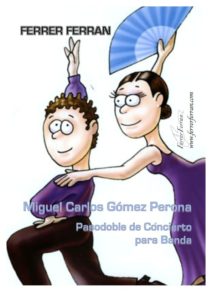 Tracklisting
Synopsis
Miguel Carlos Gómez Perona
Pasodoble de Concierto
Miguel Carlos Gómez Perona es una persona amante de la música, en especial de la música de banda. Un gran emprendedor y apasionado que ha hecho que en Ciudad Real evolucionen las bandas de música a los más altos estandartes, proporcionando cursos y eventos de gran prestigio, siempre para enriquecer y progresar a todas las bandas de música.
Miguel Carlos merece un bonito pasodoble de concierto, que llevando su nombre, siempre sea recordado, reconocido y admirado. Un pasodoble con encanto, español de tradición y muy embriagador marca la solera de la tradición, haciendo conjugar estos sonidos que dan ese color hispano a un pasodoble rico en armonía y género.
A Miguel Carlos Gómez Perona por su gran interés en la evolución y buen hacer en las bandas de música. Con cariño, agradecimiento y aprecio de su amigo Ferrer Ferran
Esta Composición fue estrenada el día 20 de Agosto de 2011 en el auditorio de la Cueva de Medrano en Argamasilla de Alba, Ciudad Real, por la Banda de la Agrupación Musical "Maestro Martín Díaz" de Argamasilla de Alba, dirigiendo el autor.
---
Miguel Carlos Gómez Perona is a music loving person, especially band music. A great entrepreneur and passionate that has made Ciudad Real evolve bands to the highest standards, providing courses and prestigious events, always to enrich and progress to all bands.
Miguel Carlos deserves a nice paso doble concert, which bears his name, always be remembered, recognized and admired. A pasodoble charming Spanish tradition and very heady marks the hearth of tradition, by combining these sounds that give the color to a rich Spanish paso doble in harmony and gender.
A Miguel Carlos Gómez Perona for his great interest in evolution and good work in the bands. With love, gratitude and appreciation of his friend Ferrer Ferran
This composition was premiered on August 20, 2011 in the auditorium of the Cueva de Medrano in Argamasilla de Alba, Ciudad Real, by the Band of the musical group "Master Martin Diaz" Argamasilla de Alba, leading the author.
Video
Grabaciones En Catálogo