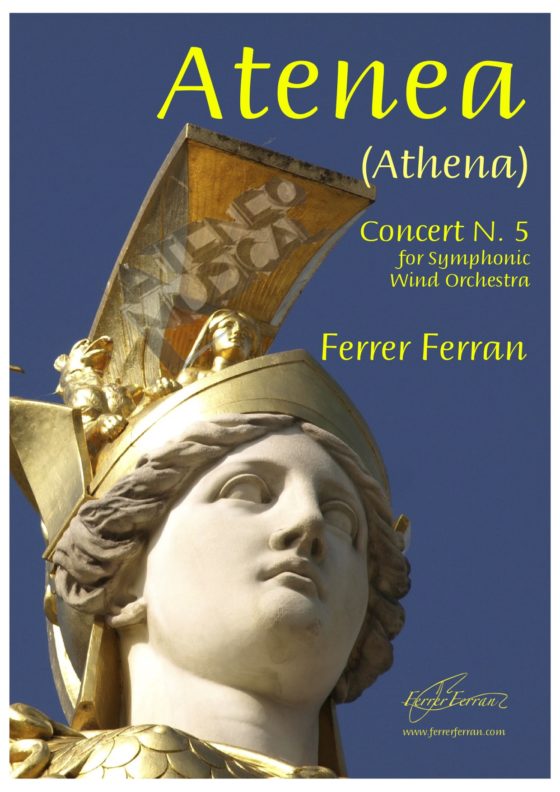 Estreno de ATENEA en el concierto de 125 aniversario
Date:

julio 25, 2021

Time:

21:00

Location:

Auditorio Municipal Cullera

Venue:

Auditorio Municipal Cullera
Ferrer Ferran dirigirá a la Banda Sinfónica Ateneo Musical de Cullera en el concierto conmemorativo del 125 aniversario de su fundación.
En dicho concierto se estrenará el Concierto N. 5 para Orquesta Sinfónica de Viento y Percusión titulado ATENEA.
El concierto será el próximo día 25 de Julio de 2021 a las 21 h. en el auditorio municipal de Cullera.
Sinopsis de la composición ATENEA:
En la mitología griega, Atenea es hija de Zeus. Nació ya adulta de su frente completamente armada, cuando Hefesto le abrió la cabeza con un hacha para curarlo de los dolores que le atormentaban.
Atenea es la diosa de la sabiduría, de las artes y de la artesanía. Es una diosa guerrera imbatible en la guerra. Representa la inteligencia creadora y es patrona de los ceramistas, de los tejedores, constructores y otros artesanos.
La Sociedad Ateneo Musical de Cullera es sabiduría, arte, artesanía, motiva a la inteligencia creadora y con 125 años de existencia ha sido imbatible demostrando en los escenarios su saber musical. Esto es Atenea…, esto es el Ateneo Musical de Cullera.
El director titular de la "Banda Sinfónica Ateneo Musical" de Cullera, Ferrer Ferran, regala esta composición a dicha Sociedad para conmemorar su 125 Aniversario. Y dedica a todos sus músicos, directivos y simpatizantes de esta magnífica Sociedad, para que continúen creyendo en la "magia" de la música y así, hacer feliz a la humanidad cada vez que salen a los escenarios.
Esta composición se estrenó el 25 de Julio de 2021, en el Auditorio Municipal de Cullera (Valencia, España) por la banda sinfónica "Ateneo Musical" de Cullera, dirigiendo su titular, Ferrer Ferran, el autor.
———–
In Greek mythology, Athena is the daughter of Zeus. She came up as a fully-armed adult from his forehead, after Hephaestus opened his head with an ax to cure him from the pains that tormented him.
Athena is the goddess of wisdom, arts and crafts. She is an unbeatable warrior in war. She represents creativity and is protector of potters, weavers, builders and other artisans.
The Sociedad Ateneo Musical de Cullera is wisdom, art, craft, stimulates creativity and, with a 125-year history, has been unbeatable on stage, showing its musical wisdom. This is Athena…, this is the Ateneo Musical de Cullera.
Ateneo's chief conductor, Ferrer Ferran, gifts this composition to commemorate its 125th Anniversary, and encourages all musicians, directors and supporters of this great club to continue believing in the "magic" of music and thus making mankind happy every time they go onto stage.
This work was premiered on July 25, 2021, at the Auditorio Municipal de Cullera (Spain), by Banda Sinfónica del Ateneo Musical de Cullera, conducted by the composer, Ferrer Ferran.