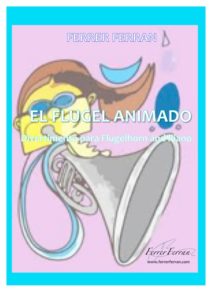 | | |
| --- | --- |
| Year | 2012 |
| Duration | 9:35 min. |
| Level | 3 |
| Editor | Musicaes |
Tracklisting
Synopsis
El Flugel Animado
  Divertimento for Flugelhorn and Piano
El "Flugel Animado" es un divertimento para Fliscorno y Piano, una pieza divertida y atractiva donde el fliscorno protagoniza el bromear a su acompañante, el piano.
Una obra que unifica una variedad de estéticas, siempre manteniendo el encanto de una "personita" animada imaginable, donde su humanidad y transparencia propone conseguir que el espectador siempre esté entretenido.
La dulzura de la parte lenta, hace pensar en la búsqueda de una felicidad fiel, donde la inocencia es la mejor herramienta a tal efecto.
La mezcla de todos los temas en la reexposición hace desorientar la organización lógica, dando así cabida a un mundo de imaginación y diversión.
Encargo del IVM por petición de la Asociación de Compositores Sinfónicos Valencianos (COSICOVA)
Esta Composición está dedicada: Al excelente trompetista Pacho Flores, por su gran humanidad y extraordinaria trayectoria como concertista.
"El Flugel Animado" fue estrenada en el 7 de Noviembre de 2012, en el Palau de la Música de Valencia, por el Fliscornista Edmond Gómez siendo el pianista el mismo autor.
---
"The Flugel Animado" is an entertainment for Flugelhorn and Piano, a fun and attractive piece which carries flugelhorn joking to his companion, the piano.
A work that unites a variety of aesthetic, while maintaining the charm of a lively imaginable "little person", where their humanity and transparency aims at making the viewer is always entertaining.
The sweetness of the slow part, suggests finding a true happiness, where innocence is the best tool for this purpose.
The mixture of all issues in the recapitulation does confuse logical organization and allowing for a world of imagination and fun.
Comissioned IVM at the request of the Association of Valencian Symphonic Composers (COSICOVA)
This composition is dedicated: excellent trumpeter Fred Flores, for his great humanity and extraordinary career as a concert.
"The Flugel Animado" was released on November 7, 2012, at the Palau de la Música in Valencia, by Edmond Gomez Fliscornista pianist being the author.
Video
Obra en Grabaciones